---
The Sapporo Cultural Arts Community Center SCARTS and SIAF Lab have been constantly working on a project to discover new winter attractions and creativity by re-examining the cold climate of the snowy city of Sapporo, and urban functions unique to the northern regions, such as snow clearance, from the perspectives of information technology and art. In the three years since 2018, we have focused on collecting environmental data related to the removal of snow, and have explored ways to utilize this information as well as the possibilities for the creation of art based on gathered data.
Our project, which is based on the idea of R&D (research and development), where we engage in hands-on investigation of the unknown and try to create something that has not previously existed, is an attempt to explore Sapporo's unique creativity beyond the boundaries of individual specialized fields. It can be positioned as an art project itself.
In this exhibition, the fourth of its kind, we will feature an ultra-wide print, which consists of approximately 70,000 fixed-point, time-lapse photographs of snow dumping sites collected during the winter of 2020. These prints will be arranged in a way that corresponds with the earth's orbital path that generates the seasonal cycle. It will also feature our experiment visualizing the locational information provided by the onboard GPS systems of more than 500 snowplows, and an installation that superimposes data related to the city and natural environment of Sapporo, from weather satellite observations, to data on the flow of people in the Sapporo underground passage. Through these experimental prototypes, we will explore the state of Sapporo's city and environment, art works of various forms using data as a material, and the new relationships and existence they create.
Plan and Development:

SCARTS x SIAF Lab.

Organizer:

Sapporo Cultural Arts Community Center SCARTS (Sapporo Cultural Arts Foundation), Sapporo International Art Festival Executive Committee, City of Sapporo

Cooperation:

Snow Management Office, Sapporo Municipal Library and Information Center

Support:

The Agency for Cultural Affairs Government of Japan in the fiscal 2021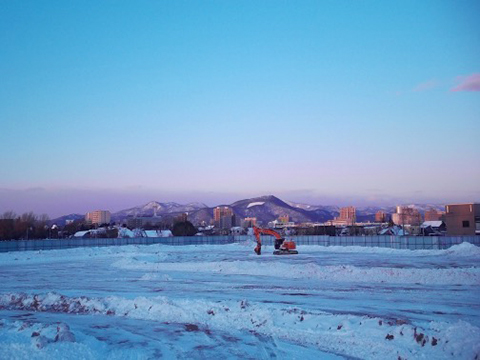 ---
Related events
Gallery Tour
Sat. 5 February, 2022 3:00pm-4:00pm
Project members will guide you and describe the exhibition content.
Advance reservations are not required. Free of charge.
Participants should gather in front of the SCARTS COURT before the tour.
Guide:Kei Komachiya, Katsuya Ishida, Daisuke Funato, Norimichi Hirakawa (SIAF Lab), Takuro Iwata, Ayako Hiizumi (SCARTS)
TALK EVENT "City, Nature and R&D"
Sun. 13 February, 2022 2:00pm - 5:00pm
Venue: SCARTS Mall A/B
Advance reservations are not required. Free of charge.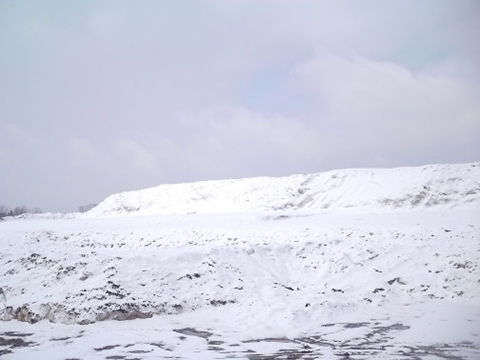 Session 1:
Winter in Sapporo and New Expressions
2:00pm-3:30pm (90mins)
The first session will introduce new aspects of Sapporo's winter that have emerged through the winter activities of SCARTS and SIAF Lab, and new expressions that have arisen from these activities, in order to consider the possibilities of art cultivated by "R&D" as a method of expression.
Kei Komachiya, Norimichi Hirakawa (SIAF Lab), Takuro Iwata, Ayako Hiizumi (SCARTS)
Facilitator : Hiroko Myokam (Curator / Media art Researcher / Representative Eizo Workshop G.K.)
*Additional speakers will be announced later.
Session 2:
"S.I.D.E" Project
4:00pm-5:30pm (90mins)
The SIAF Lab has launched an open and emergent collaborative project of a new era which will take place in Hokkaido. Members from outside of Hokkaido will also participate, not only to introduce the background and framework of the project, but also the specific ideas at its core.
Speakers: You Nakai (No Collective (music, etc) / Already Not Yet / Associate Professor, the University of Tokyo, Graduate School of Arts and Sciences + Art Center), Park Hyunjung (Hokkaido University CoSTEP), Akihiro Kubota, Kei Komachiya (SIAF Lab)
Facilitator : Hiroko Myokam (Curator / Media art Researcher / Representative Eizo Workshop G.K.)
Live streaming on YouTube is also scheduled.
EXHIBITION
This is a video taken by a drone to show the exhibition from a different perspective.
*Sapporo International Art Festival and Sapporo Snow Festival Collaboration Program
---
Online Sapporo Snow Festival 2022
Drone shooting: Hoppou Kuusatsu, Video editing: SIAF Lab
This is a video introducing the exhibition.
---
Shooting / Editing: Yusuke Monma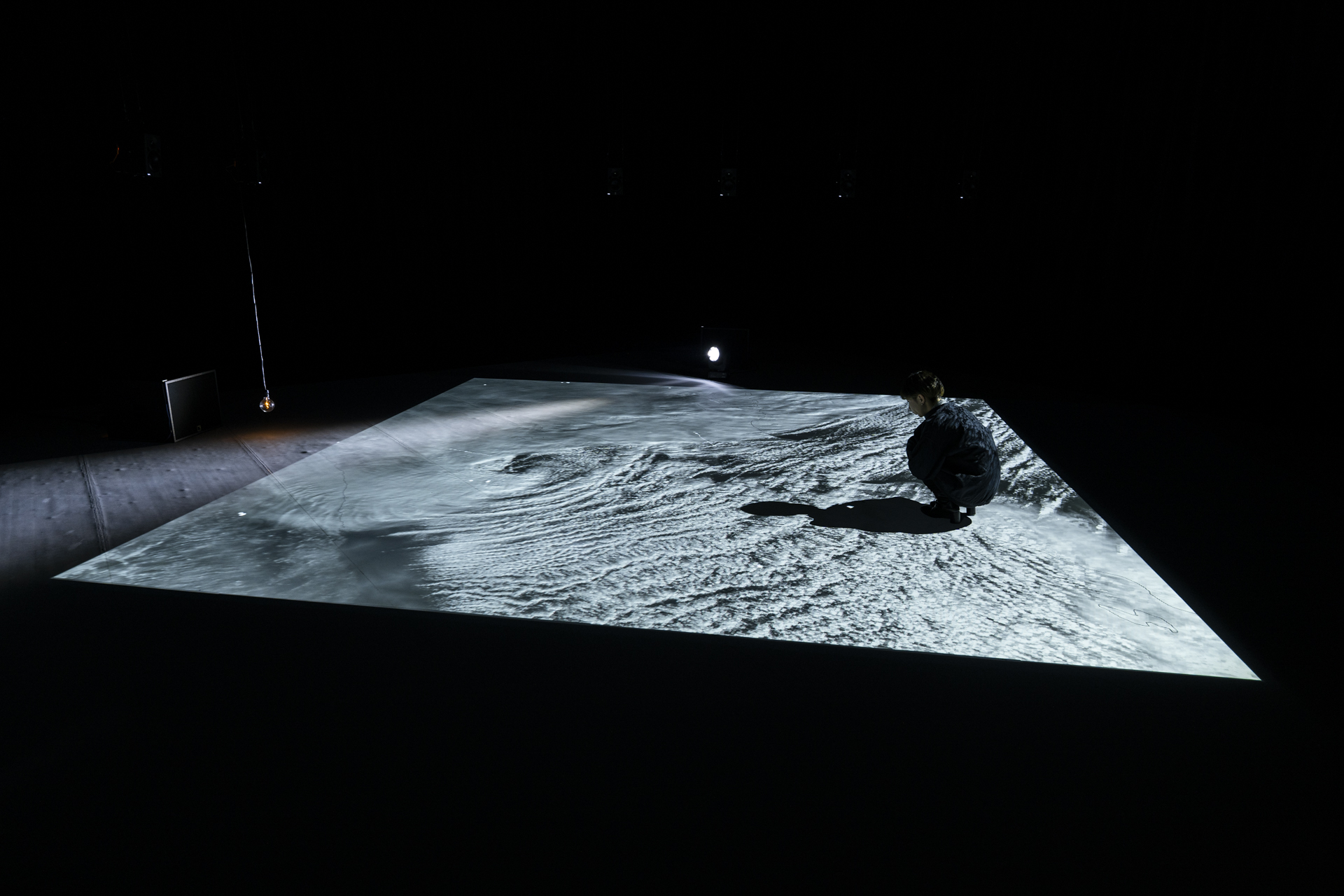 During winter, snow covers the prefecture of Hokkaido from the vast rise of the mountains to the city streets, with snowplows clearing the way and delivering their load to the dumping sites as snow fills the roadsides. Is the snowy mountain that appears at the dumping site a creation of nature or a byproduct of an urban snow removal operation? Looking at data collected from around the dumping sites may provide a new perspective to this question.
This exhibition is an experimental space for SCARTS and SIAF Lab. It aims to discover new relationships and existence through laying out three factors – environments such as cities and natural environments, technology perspectives represented by data, and art subject 'forms' – in one unified ground to appreciate and experience them through different methods.
Photographic images, taken by SIAF Lab, of the dumping sites. Locational information collected by GPS-equipped snowplows. Global data monitored by the weather satellite. Quantitative data such as rain fall and snow amount from a meteorological observatory. These data sets exist digitally as numbers and have no actual form. Using conventional print media, general video and audio equipment including projectors, liquid-crystal displays and speaker systems, as well as various output approaches, the exhibition explores new forms of art via visualization, sonification, spatialization, and materialization of data – the most flexible materials.
With its deconstructive approach, this exploration not only challenges the meaning and value of data beyond consumerism management activities, namely data mining, along with the non-binary relationship of cities and nature, and the norm of a known unknown (existing questions), such as a new art form that is more than an obvious copycat, it also conceals the potential to be the new beginning, investigating the "unknown unknown" (new questions).
● The form of Sapporo (drawing by snowplow GPS tracking data)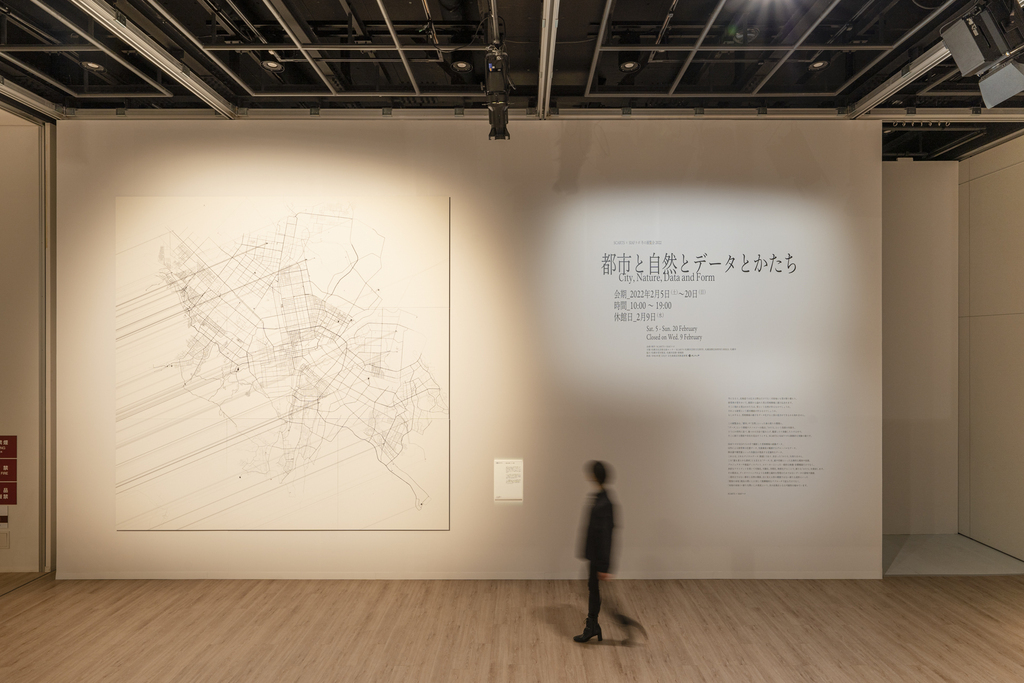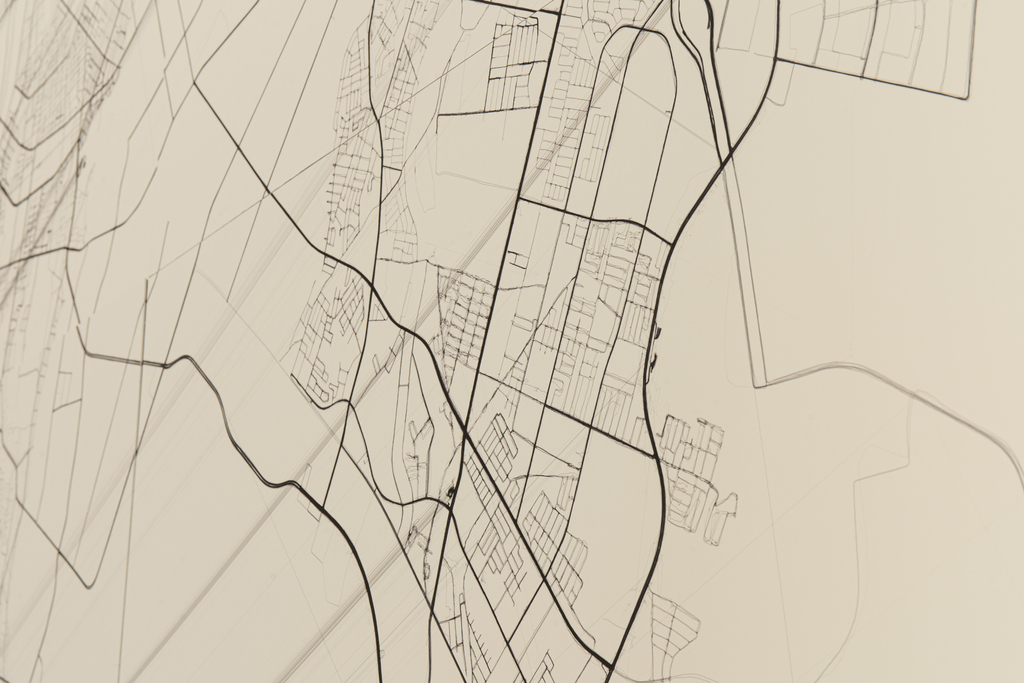 The work comprises prints of the locational information obtained from more than 500 GPS-equipped snowplows operating in Sapporo City between December 2020 and March 2021. The entire location record, stored approximately every second, spans 30 gigabytes in text format. The image was made by connecting these location points with lines, but contrary to its rather simple method, the attempt resulted in an enormous image measuring over 45,000 x 45,000 pixels, or worth over 120 units of 4K display combined.
We use GPS tracking information daily via devices such as smartphone direction apps. As its data precision depends on the number of satellites accessible from the location of the device, information collected by the GPS tracker can also inform us of the presence of obstacles, including tunnels and underpasses, which disrupt connection. Therefore, GPS data contains geographical insights that are different from those offered by conventional street maps.
Using GPS tracking data – the unique technology made possible by artificial satellites – the winter landscape of Sapporo City is rendered with an intricacy that no video device can produce with its resolutions. The image may indeed be called a special drawing, having been born from the harmony between the wilderness and the urban response that took place during the cold season.
Size: 3.6 x 3.6 m (9 elements in a group)
Direction: Kei Komachiya, Norimichi Hirakawa (SIAF Lab)
Programming: Norimichi Hirakawa (SIAF Lab)
Cooperation: Sapporo Snow Management Office
● Winter: the composition/formless sculpture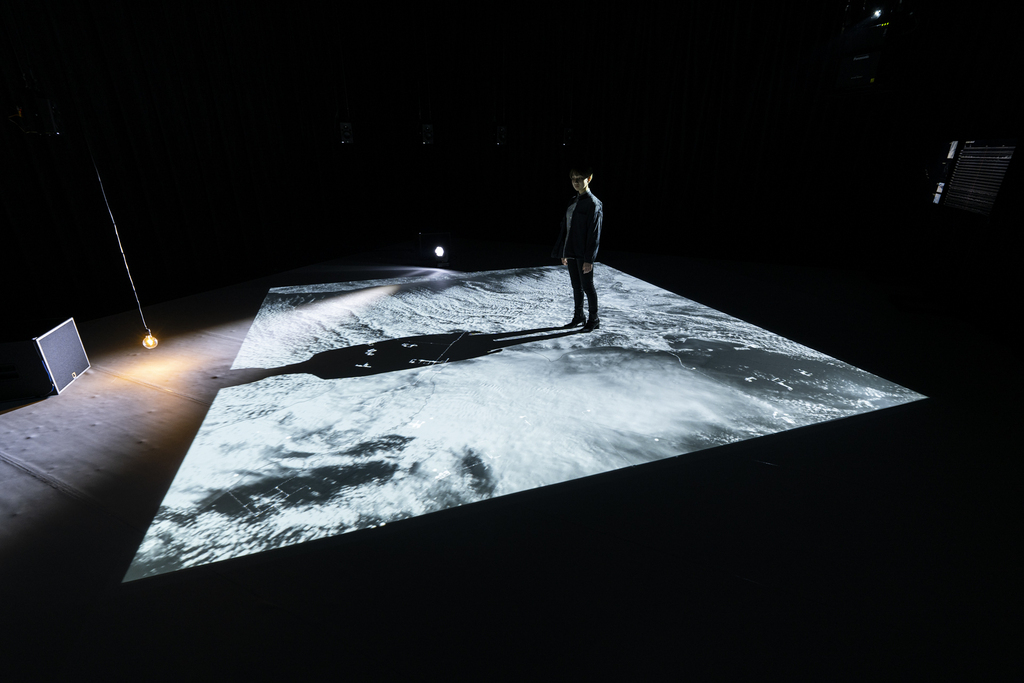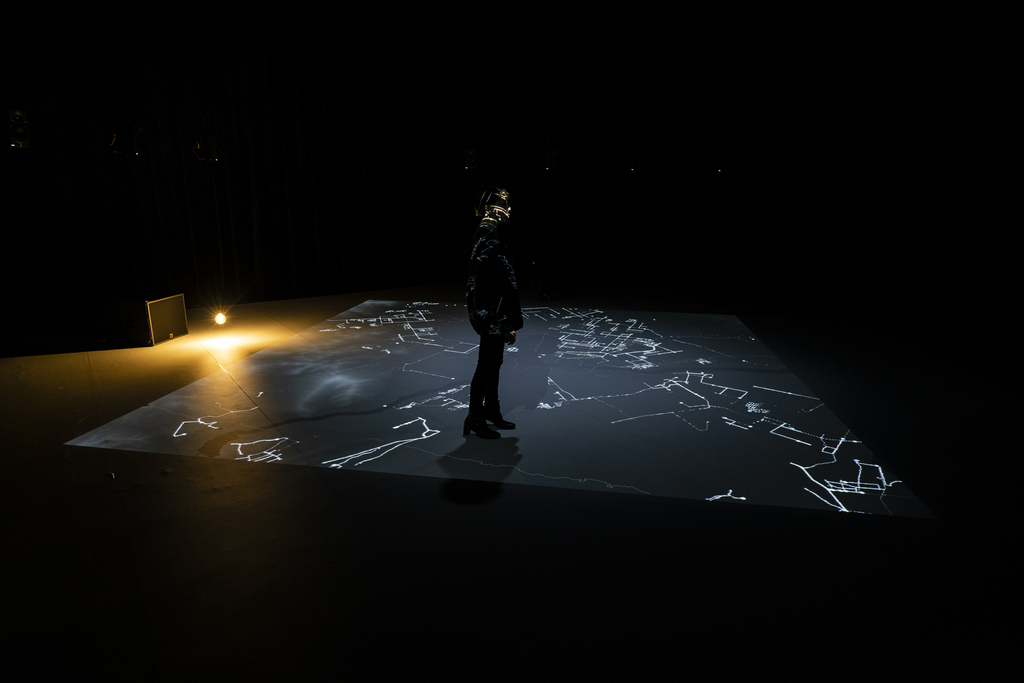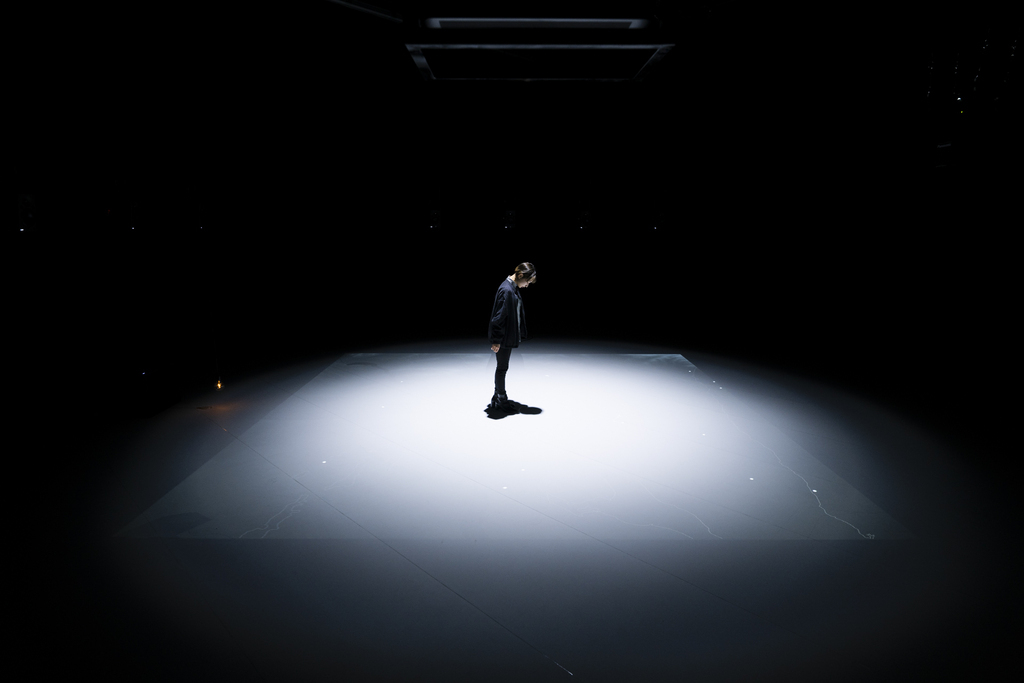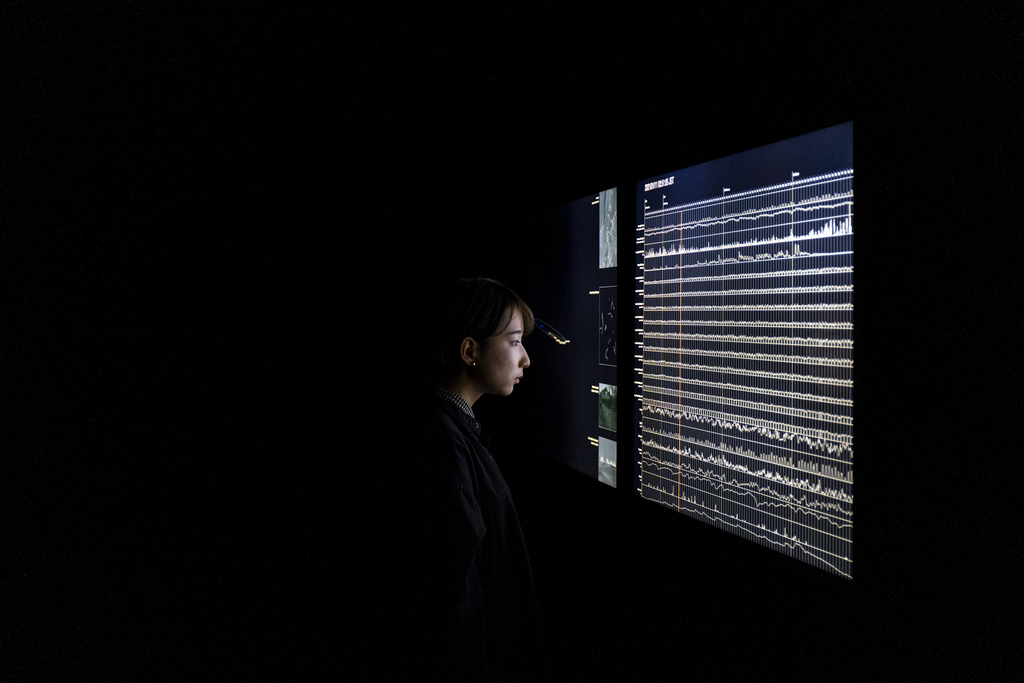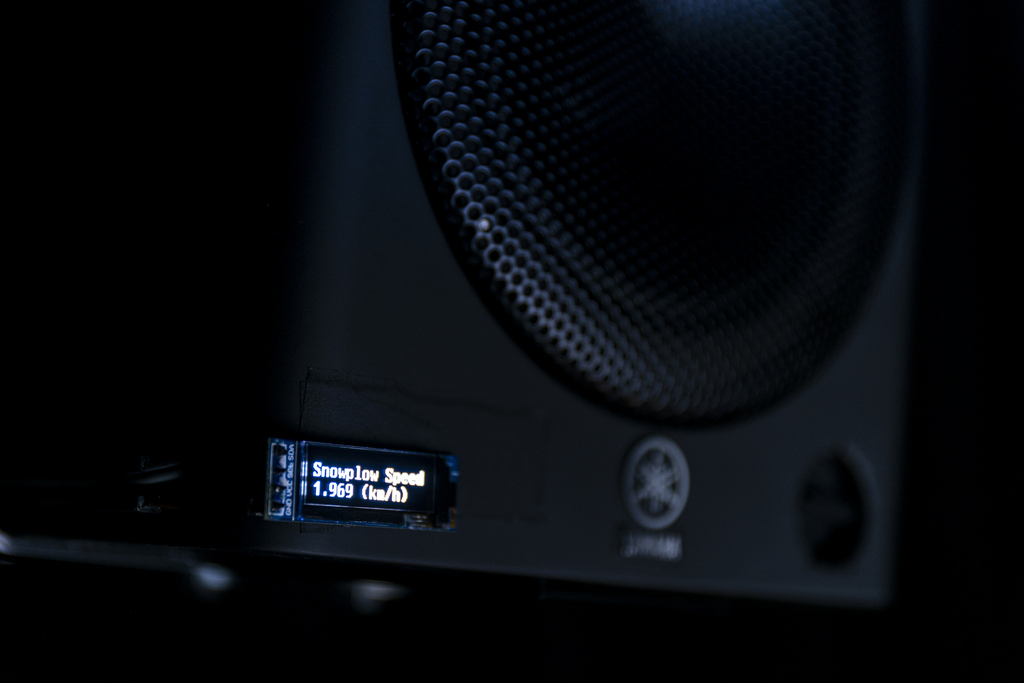 This installation takes various data associated with winter and was collected from December 21, 2020 (the winter solstice) to March 20, 2021 (spring equinox). In an effort to revisit winter, the data has been converted into lighting and sound patterns that are projected and played at a 1200-fold speed in a unified space.
In the ten speaker systems, including subwoofers, data samples collected at the local meteorological observatory and representing natural phenomena (temperature, insolation, snowfall, snow accumulation) and those concerning human activities detected, such as the flow of people in the Chi-Ka-Ho (Sapporo City Underground Passage), and snowplow operation records, are layered and assigned to intersect with each of the systems. In turn, each speaker releases sine waves corresponding to the allocated data. While each of the data sets may sound plain by itself, they produce complicated acoustic fields when they are played together in resonance, delivering a diverse sound image to their listeners based on where they hear it.
On the floor, a video showing the clouds, monitored by the geostationary meteorological satellite, Himawari-8, in the visible and infrared areas alongside the plotted GPS data of the snowplows, is projected with separate light sources, each of which overlay and erase the other. Left in this complex friction of lights and sounds that transform as they move around the venue, the audience becomes an object that acts like a sensor, scattered throughout the exhibition space.
The complex transformation of the lights and sounds, brought by the continuous shift between day and night as well as interactions among the meteorological/human activity data sets, reveals a winter landscape that is not a part of nature nor the city but an abstract art. By calling this realm that seamlessly integrates these elements a "formless sculpture", the question of how to explore the limit of sculpture – the art category that has long been working with forms – is also addressed.
Direction: Kei Komachiya, Norimichi Hirakawa (SIAF Lab)
Programming: Norimichi Hirakawa (SIAF Lab)
Device Programming: Kei Komachiya (SIAF Lab)
Technical Management: Takuro Iwata (SCARTS)
Production support: Takashi Kusaka, Yasushi Shimizu, Ryuji Murakawa (SIAF Lab researchers)
Data provision: JAXA, Japan Meteorological Agency
The installation uses the following copyrighted materials after they are modified.
Human Traffic in the Sapporo Station Underground Passage (Chi-Ka-Ho) Sapporo City Development Policy Planning Bureau Urban Development Promotion Office Urban Development Section CC BY 4.0
https://ckan.pf-sapporo.jp/dataset/chikaho-jinryu
● Snow Dump Site 2021 (Prototype)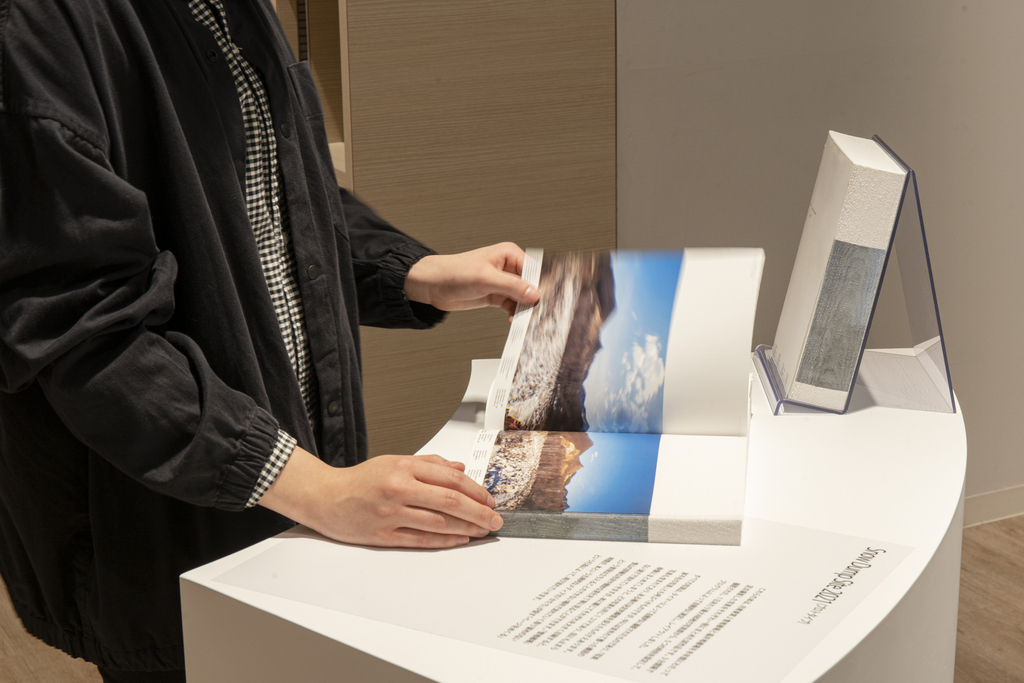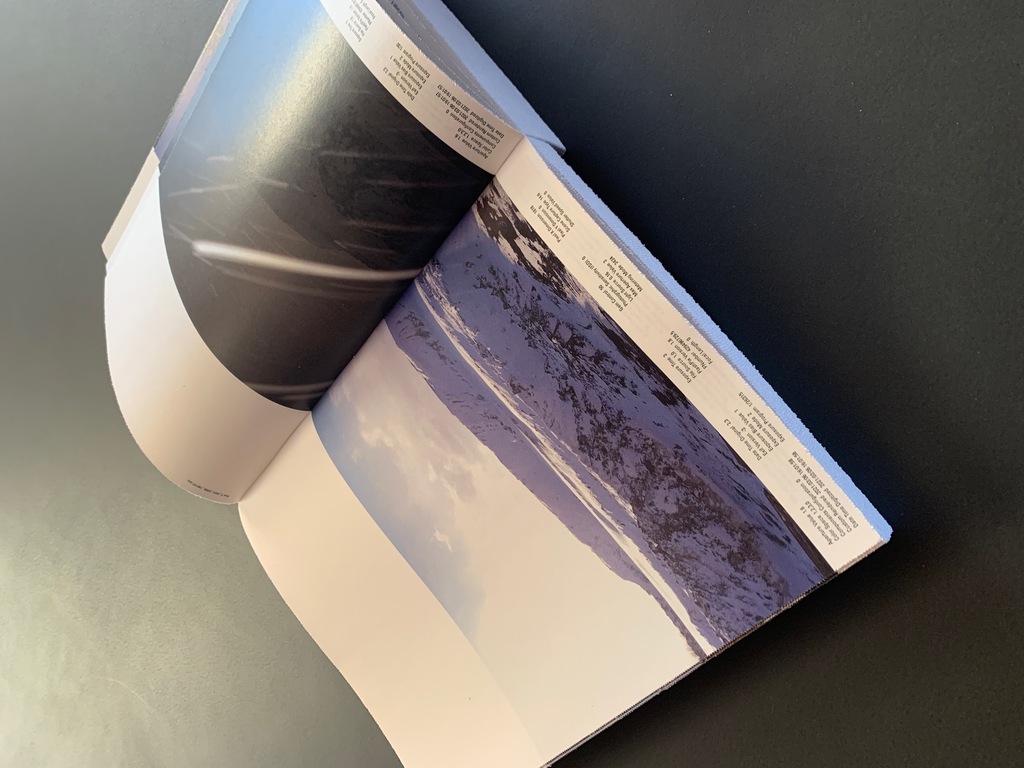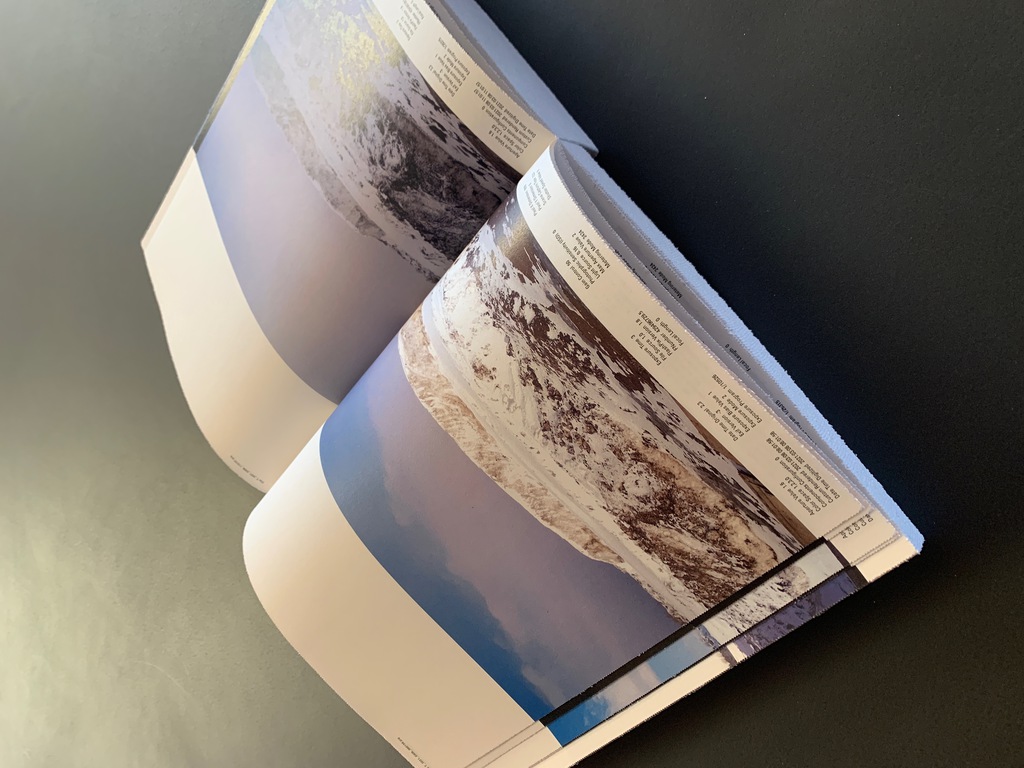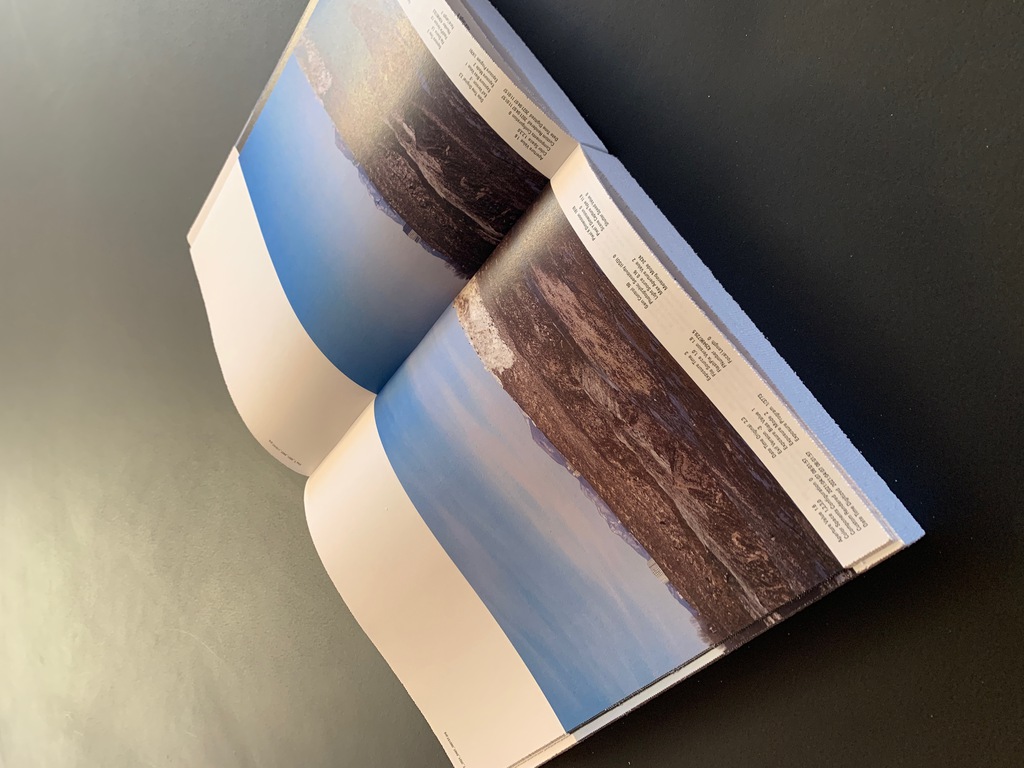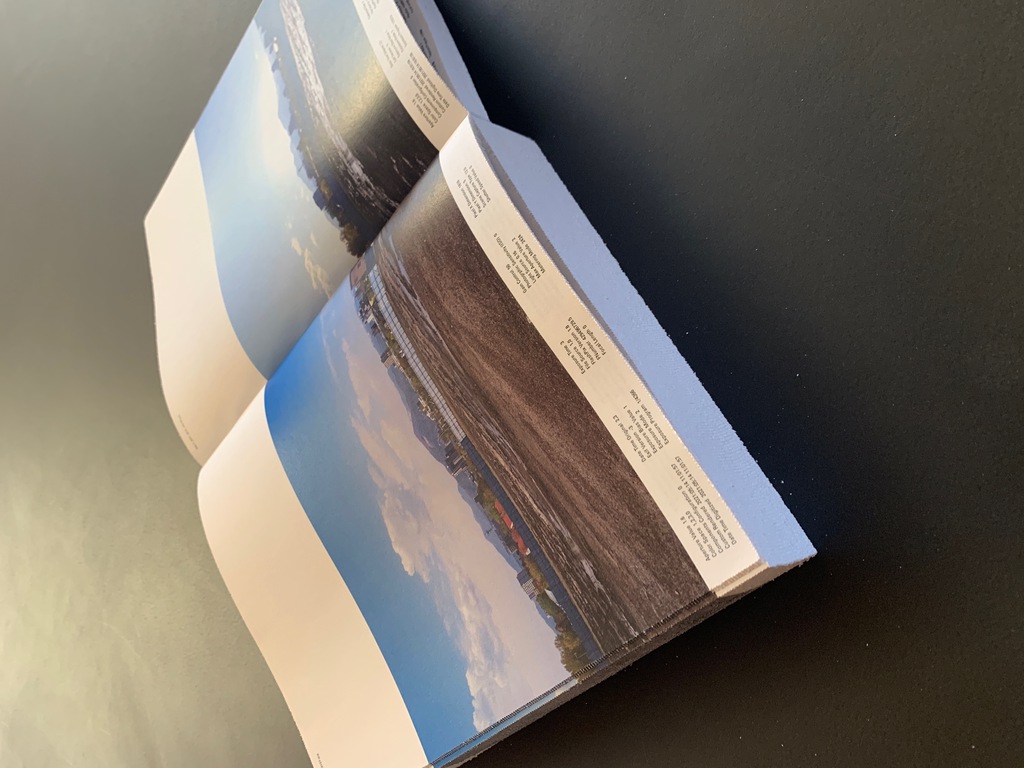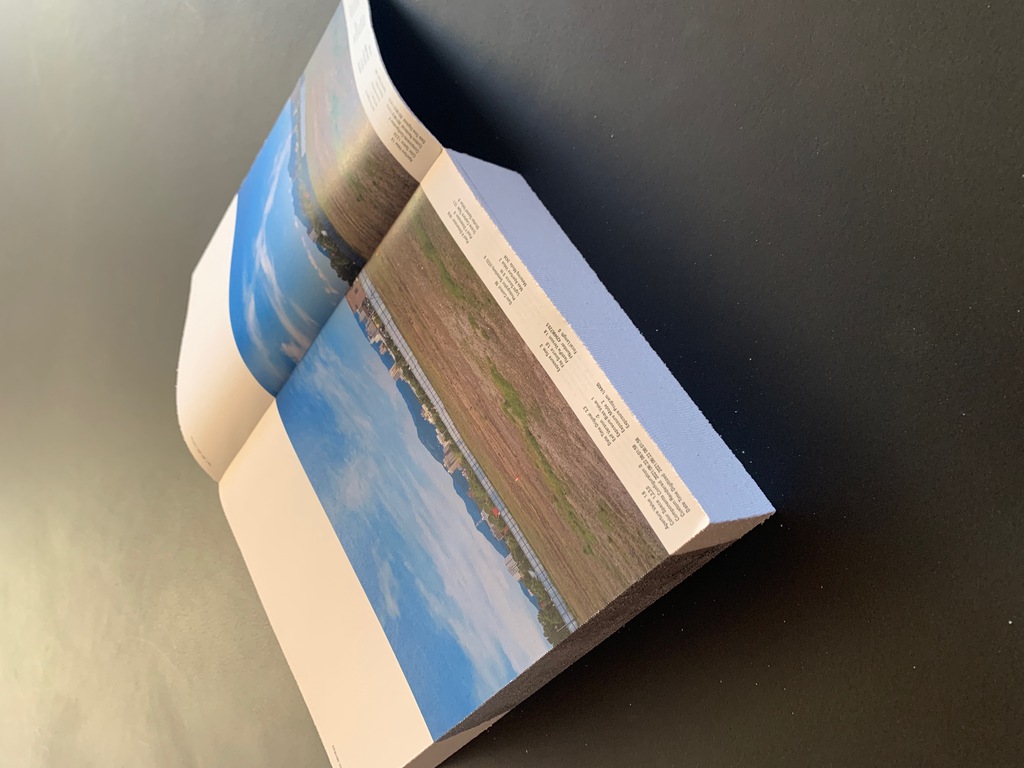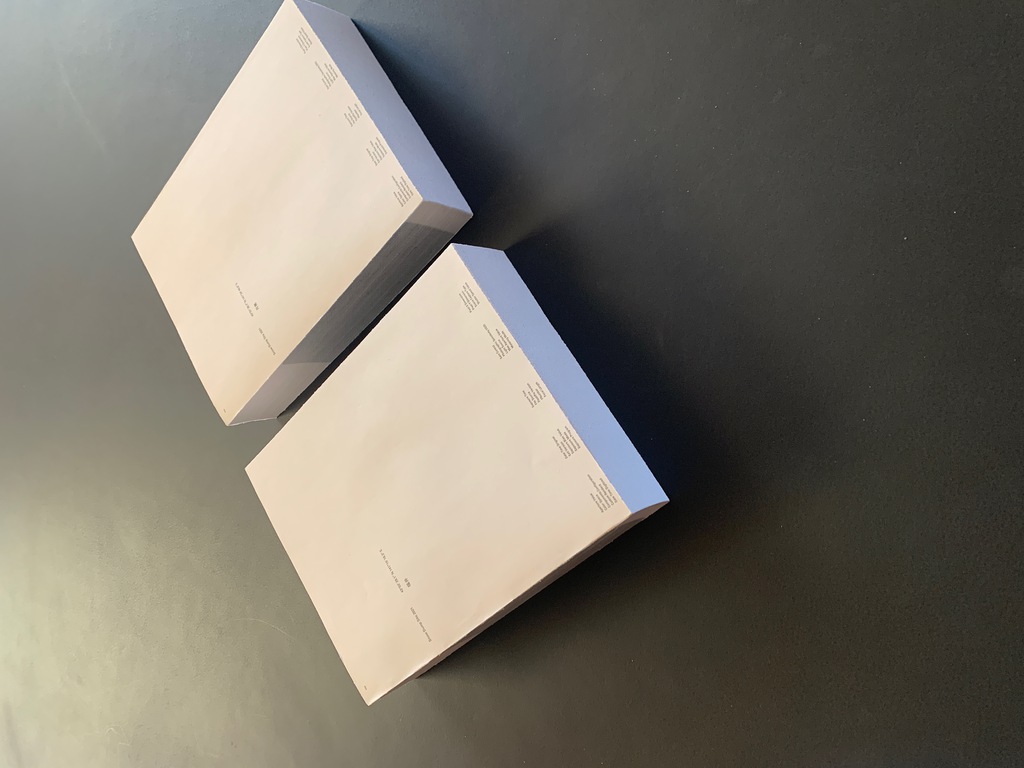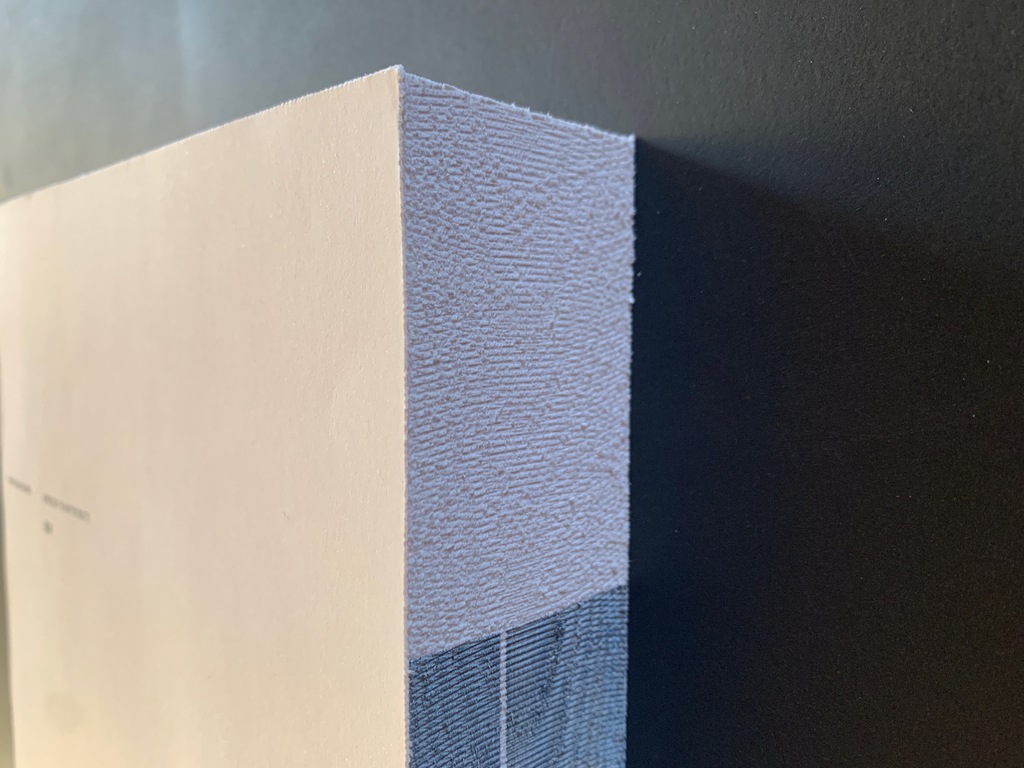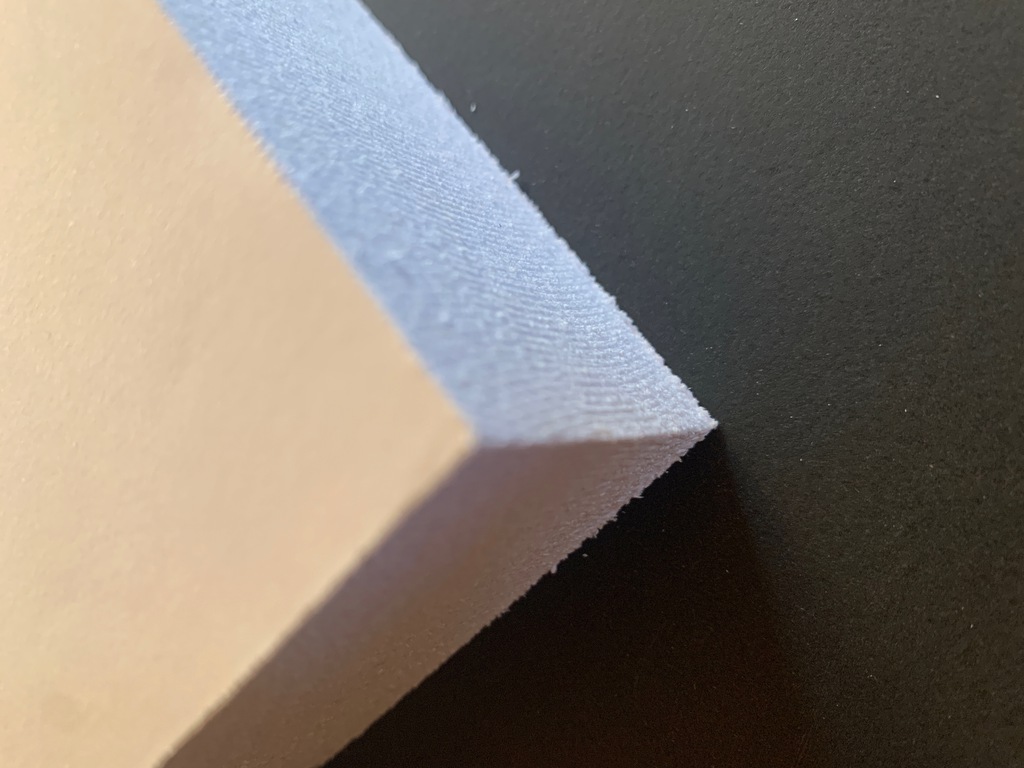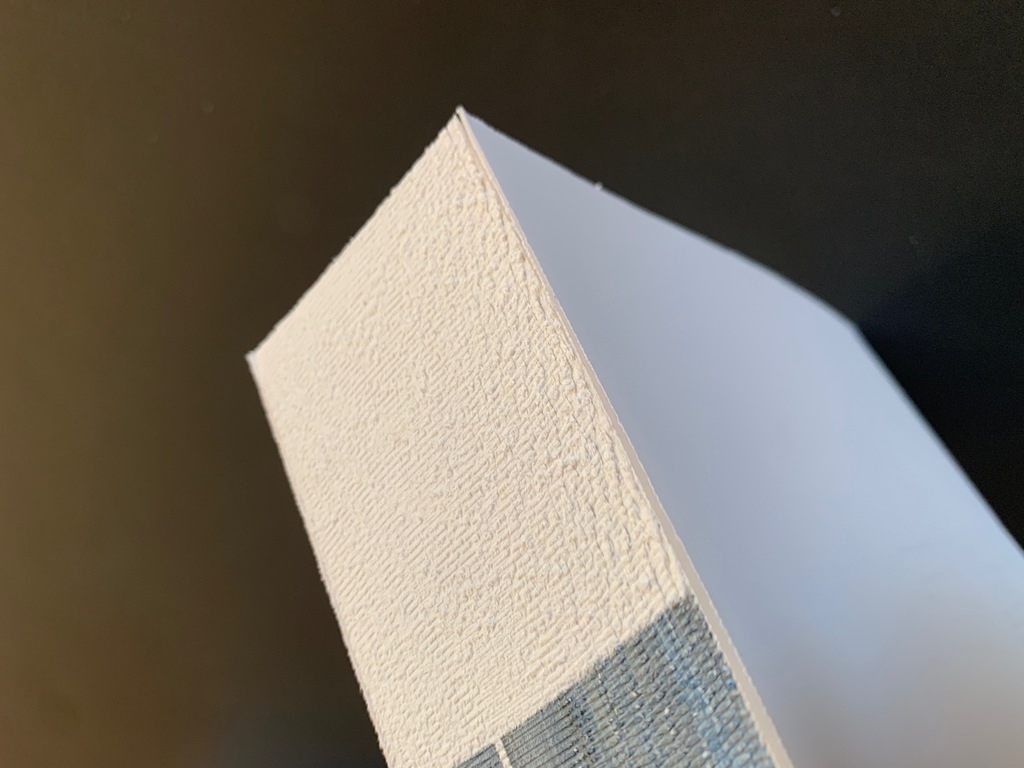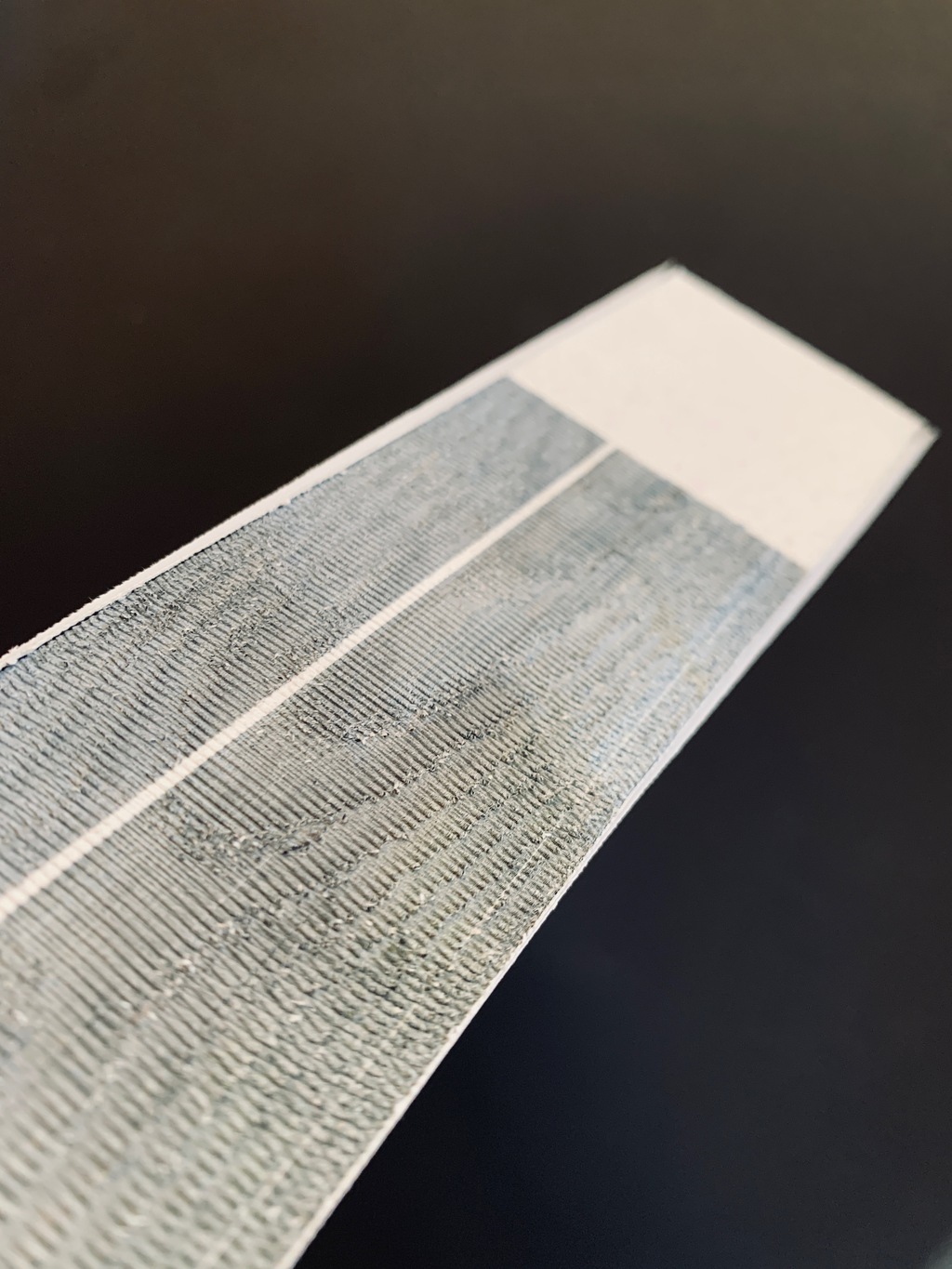 These books are prototypes that compile fixed-point pictures into single documents, representing a 6-month period at both the Tsukisamu Higashi Snow Dumping Site 2, and the Fukui Snow Dumping site. Each book features a collection of photographs shot in 3-minute increments – a total of 480 pieces per day maximum – after being auto-filtered by a computer program based on the five specified timeframes.
All pictures were taken with a timer and should therefore be called "photos shot without a photographer". Nonetheless, these photographs include those with exceptionally organized composition; some even capturing peculiar or, in a way, defining moments. Making a videography with them would be like treating such images as identical fragments of footage that are being flipped through at lightning speed. But a book with images printed in large size will convey the detailed shapes of the mountains or their subtle changes in a gracious way. Prompted by this classic medium, every page turn revives the flow of time, running aimlessly through the normally restricted space of the snow dump sites.
Format: W170 x H220mm, 832 pages
Design: Shogo Kosakai, Takuto Mashimo (Siun)
Direction: Kei Komachiya, Norimichi Hirakawa (SIAF Lab), Shogo Kosakai (Siun)
Programming: Norimichi Hirakawa (SIAF Lab)
Cooperation: Toyohira Ward East District Road Maintenance Snow Removal Joint Venture, Hokuyo / Hokkaido Road / Sano Specified Joint Venture
● The form of snow-covered mountains and the Earth's orbit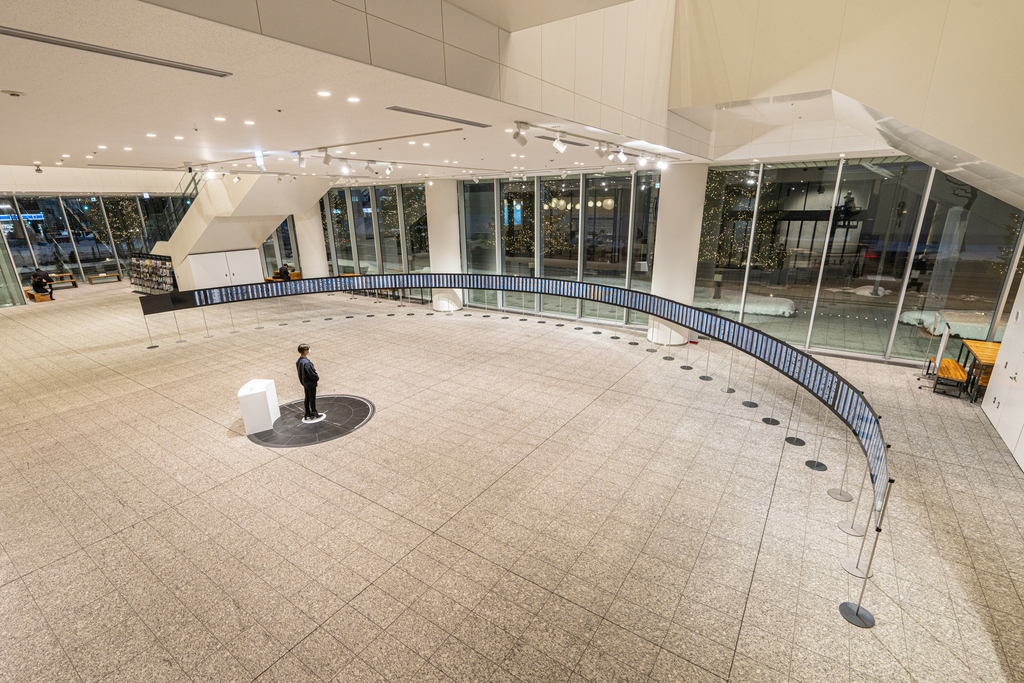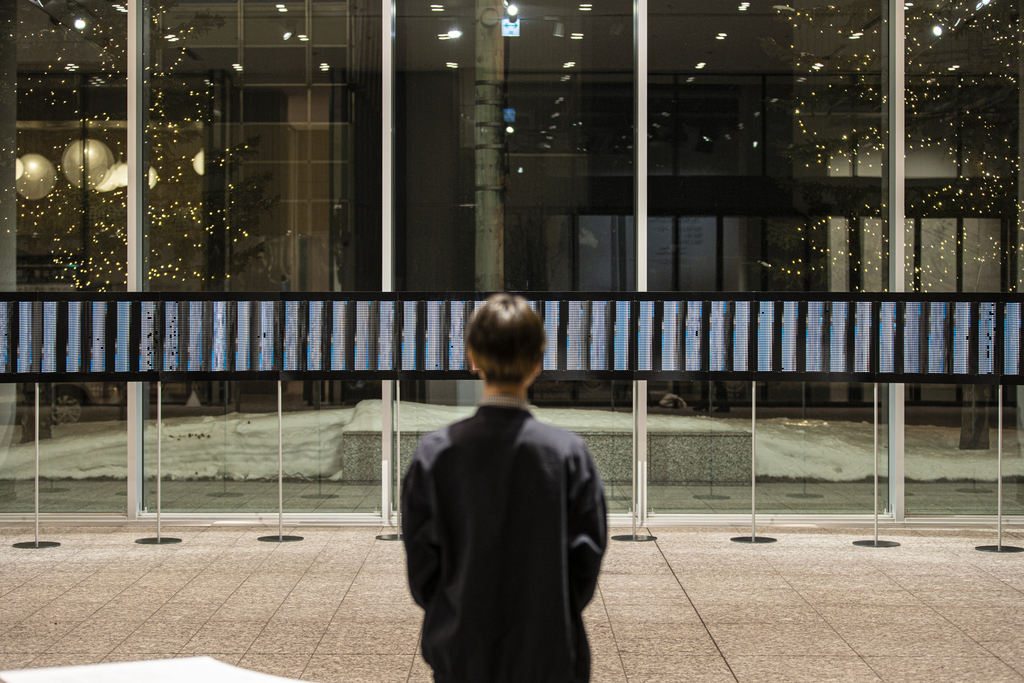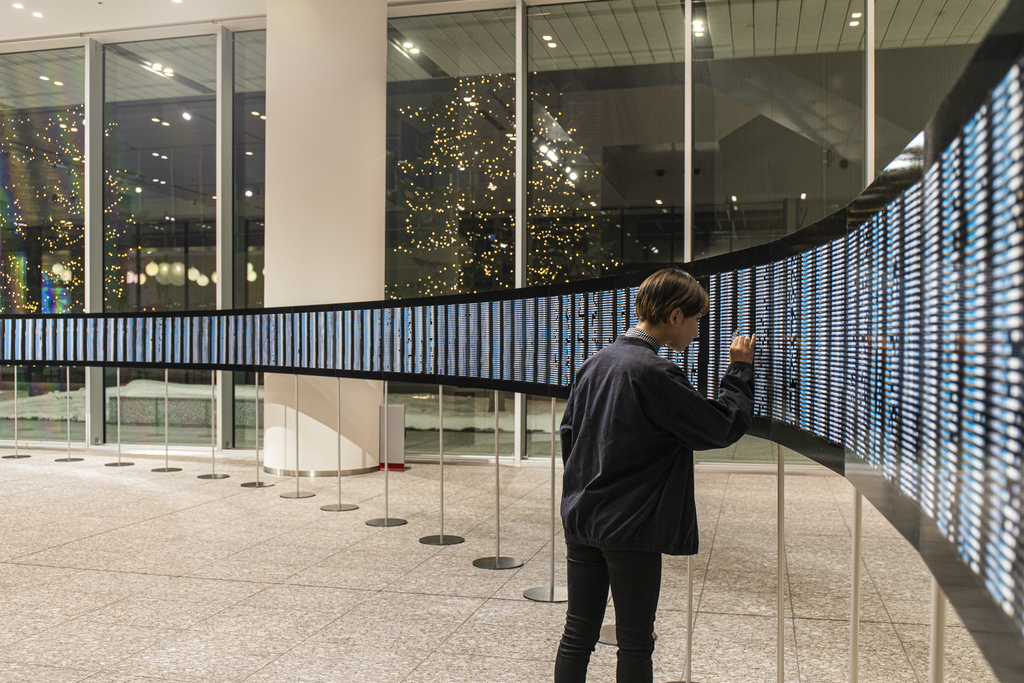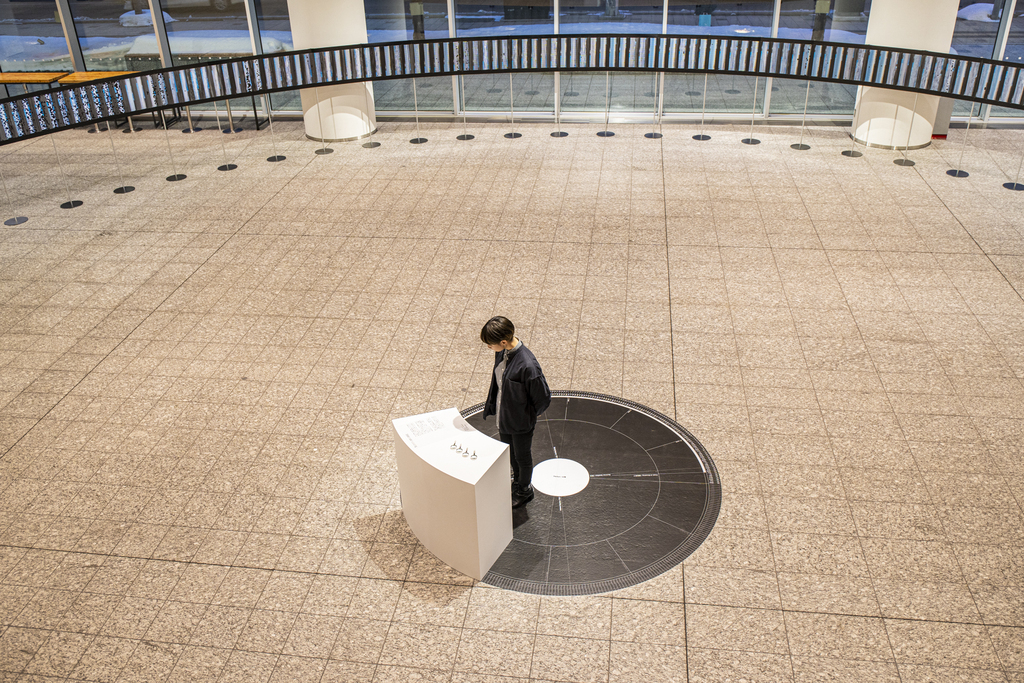 This artwork exhibits a total of 77,857 fixed-point, time-lapse photographs captured every 3 minutes at the snow dumping site located in Tsukisamu District in Sapporo City since its opening date during the winter of 2021. Whether it be a truck unloading the snow, a bulldozer breaking up the pile to melt it in spring, or, as autumn deepens, the leaves changing their colors on the trees of Mt. Moiwa and overlooking the site from a distance, these photographic prints trace the 170 days of the site, from the first scene taken on January 10 until the last on June 29.
Further, the arc in which these images are placed emulates the orbit of the Earth as it traveled around the sun during the shooting, depicting in parallel the movements of the solar system and the view of the dumping site that embraces the transcending seasons born through these dynamics. One look at the picture is enough to tell how the snow pile grows and shrinks, while the strips created by the patterns of monochrome pictures shot at night and full-color daytime photos reveal the days getting longer as time passes.
In addition, the segments with missing images are left blank. As these blank areas tend to appear in certain timings, they could have been caused by disruptions that occurred when transferring the captured image files to the server via a mobile connection. On the other hand, they also seem to correlate with the weather conditions.
While it is evident that more effort is needed to obtain complete images, if you look at what they are trying to visualize, these imperfect data themselves provoke a reminder that flawless technology can also blind us to information that is worth noting.
Print size: W x H : 276.48 x 57.6 cm
Construction: about 15 m diameter
Direction: Kei Komachiya, Norimichi Hirakawa (SIAF Lab), Takuro Iwata (SCARTS)
Structural design: Takuro Iwata (SCARTS)
Programming: Norimichi Hirakawa (SIAF Lab)
Cooperation: Toyohira Ward East District Road Maintenance Snow Removal Joint Venture
---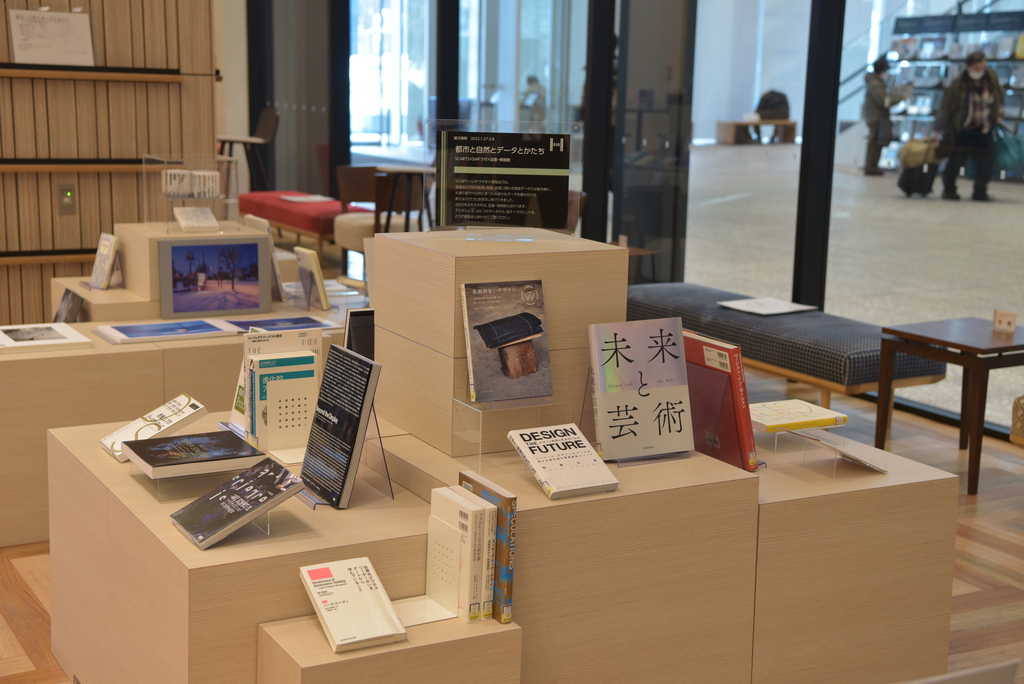 Books related to the exhibition are on display at the Sapporo Municipal Library and Information Center.
Exhibition: Thu. 27 January - Tue. 8 March
---
Profiles of participants in related events
You Nakai

(No Collective (music, etc) / Already Not Yet / Associate Professor, the University of Tokyo, Graduate School of Arts and Sciences + Art Center)

You Nakai makes music(ians), dance(rs), haunted musical mansions, nursery rhymes, and other forms of performances as a member of No Collective, and publishes experimental children's books written by children and other literary oddities as a member of Already Not Yet. In addition to his artistic activity, You has been engaged in extensive research on David Tudor's music, the results of which have been recently compiled into a book titled Reminded by the Instruments: David Tudor's Music (Oxford University Press, 2021), as well as a 2LP release Monobirds: From Ahmedabad to Xenon (TOPOS, 2021). You is currently affiliated with the University of Tokyo where he teaches "Archi-Choreographies" and "The Archaeology of Influence," among other curiosities.
Hiroko Myokam

(Curator / Media art Researcher / Representative Eizo Workshop G.K.)

Hiroko Kimura-Myokam is curator and researcher. She specializes in the archiving and conservation of new media art. She holds a degree in Media Aesthetics from IAMAS and a MA in MediaArtHistories from Danube University. She was a curator of SKIPCITY Visual Museum, NTT ICC, and a researcher of the project for Developing Digital Archive on Media Arts run by Agency for Cultural Affairs. She is a research fellow of imai Foundation Dusseldorf from 2013 to 2018. Visiting Researcher of Aichi Art University, and lecturer of the Kanazawa College of Art.
Hyunjung Park

(Artist / Special Appointment Lecturer of Hokkaido University)

Dr. Park holds a Ph.D. in Art and currently lives and works in Hokkaido. She studied art at Korea National University of Arts and the Graduate School of Musashino Art University. Using her camera, she observes and records objects and phenomena at various borders: between words, between life and death, between time, between countries, and between science and art. Dr. Park also collects moments when the ordinary becomes special, as seen in records, and creates works enabling viewers to experience them as a space of memory.
Akihiro Kubota

(SIAF Lab (Supervisor) / Artist / Professor of Tama Art University)

Born in 1960, Akihiro Kubota is a Professor of Art and Media Course in the Information Design Department of Tama Art University and the director of the Art Archive Center. His team won the Award of Distinction of the Hybrid Art of Ars Electronica 2015 for their first art satellite, "ARTSAT 1: INVADER". Kubota received the 66th Minister of Education Award in Fine Arts (Media Arts Division) for the achievement of the "ARTSAT Project". Books published recently include, "Design for Otherness" [BNN, Inc. (2017)]; "The Basic Concept of Media Art" [Filmart, Inc. (2018)] (jointly edited); "Instagram and Contemporary Image" [BNN, Inc. (2018)] (jointly edited); "New Dark Age" [NTT Publishing Co.,Ltd. (2018)] (translation supervisor); and "The New World Champion Paper Airplane Book" [O'Reilly Japan, Inc. (2019)] (translation supervisor).
Kei Komachiya

(SIAF Lab (Leader) / Media Artist / Associate Professor in the Faculty of Arts, Sapporo Otani University)

Born 1977 in Tokyo. Kei Komachiya received his MFA from the Tokyo University of Arts, Faculty of Intermedia Art in 2005. While presenting works using electronic media and other media, he has been involved in the production of numerous art projects and exhibitions as a director and technical chief. In 2017, he participated in the Space-Moere Project and presented works using stratospheric balloons at the Sapporo International Art Festival and Gwangju Media Art Festival(Gwangju, South Korea).
Katsuya Ishida

(SIAF Lab / Lecturer of Spatial Design for Human Life Course in the School of Design, Sapporo City University)

Born 1970 in Aichi. Katsuya Ishida completed his master's degree in Construction Systems Engineering at the Muroran Institute of Technology. His research theme is the construction of creative spaces using environmental information and audio-visual content. Using various media, he has been engaged in a range of projects as a director and content producer, such as community development planning and video direction at events. In 2014, he presented his work "Heart☆Full" at Bains Numériques (Enghien-les-Bains, France). After participating in the Sapporo International Art Festival 2014 as a technical staff member, Ishida is currently working as a member of SIAF Lab.
Daisuke Funato

(SIAF Lab / Engineer / Representative Director of Artful Inc.)

Born 1981 in Tokachi, Hokkaido and completed his master's degree in Systems Information Science at Future University Hakodate in 2007. From 2007 to 2013, he worked as a freelance engineer, mainly in web system construction and application development. He also continued his research during his school years, to develop a multi-touch display device with camera recognition for his own drawing software and to create works for the Sapporo Pre-Biennale. In 2014, he joined the Sapporo International Art Festival as a technical staff member. Currently, he is continuing his activities as a member of SIAF Lab. As for his personal activities, he is involved in several projects, including a startup that creates a new fishing experience by mounting sensors on lures to enhance the angler's perception in water. Funato founded Artful Inc. in 2013.
Norimichi Hirakawa

(SIAF Lab / Artist)

Born 1982 in Shimane. Focusing on computation as the most primitive technology, he has been exhibiting his works in Japan and abroad since 2005, concentrating on mathematical processing through computer programming, and installations using the results of such processing. In 2016, he began work on the ""datum"" series during his residency at the Kavli Institute for the Physics and Mathematics of the Universe, presenting them at the Toyota Municipal Museum of Art and the Sapporo International Art Festival pre-event, among others. After a residency in Chile at the Alma Telescope, located at an altitude of about 5,000 meters, he presented the latest version at Roppongi Crossing 2019. Hirakawa has also participated in the production of works by Ryoji Ikeda, Seiko Mikami, Yoshihide Otomo, and others, as well as the artistic direction of the ARTSAT project. Hirakawa has been based in Sapporo since 2019.
Takuro Iwata

Sapporo Cultural Art Community Center SCARTS Technical Director

Born 1982 in Yamaguchi. Takuro Iwata has been a member of the YCAM InterLab research and development team since the opening of the Yamaguchi Center for Arts and Media (YCAM) in 2003. He has been involved in numerous productions as a stage manager, engineer, and technical director in the fields of performing arts and media art. In 2016, he participated in the ART+COM project in Berlin, Germany, under the Agency for Cultural Affairs Overseas Study Program. As an individual, he actively creates in collaboration with artists in Japan and abroad. Iwata has been in his current position (Technical Director of SCARTS) since April 2018.
Ayako Hiizumi

Sapporo Cultural Art Community Center SCARTS Curator

Born in 1978 in Sapporo. After working as a curator at the Sapporo Art Museum and the Hongo Shin Memorial Sapporo Sculpture Museum, she assumed her current position in 2017. Her major exhibitions include "Living in Space: Japanese Public Art" (2006, Sapporo Art Museum and others), "Rodin" (2016), " Art about our neighbor" (2012) and "Our Place" (2014, Sapporo Sculpture Museum). At SCARTS, she is in charge of the exhibitions "Yasuhiro Suzuki: Notes from the Snow / Afterimage Garden" (2019), " Places of Words" (2020), and " With Others at a Long Distance".
---